Endorsements
Our land trust's conversion from our previous database to Little Green Light was no small feat. We had many years of inconsistent use of that database through staffing changes, which left us with very messy data. We initially tried another database company for about 7 months, which ended up not being a good fit, so made the leap to Little Green Light. As you can imagine, pulling messy data from multiple places seemed like an insurmountable task, but Karen guided us through the process with clarity and efficiency. In the end, not only was our organization's data cleaner than it had ever been, we were able to implement procedures for keeping our data neat and tidy into the future.

Karen took the time to personalize the new database to our organization's needs, while also helping to explain some important practices for how we should input the data for future ease in reporting. In the end she walked us through the database in several remote training sessions that our entire staff and several board members were able to attend. This was critical in helping our whole team understand the capability of this new tool, as well as how we can all be using it to make our land trust a more well-oiled machine.

We would, without hesitation, recommend Karen Schaller's services to anyone looking to migrate to a new database, or for any database consultation needs. We are happy to chat with anyone who would like more specific information about our experience with Karen, or with the new Little Green Light database, which in the short time we've been up and running is working out great!
Chrissy Beardsley Allen, Development & Outreach Director
Blue Hill Heritage Trust, Blue Hill, ME
Karen was an invaluable consultant in our transition from Raisers Edge (RE) to Little Green Light (LGL). We're a 105 year old organization and our data was quite disorganized after being moved and handled by different staff members over time. Karen managed to organize it for us beautifully before importing it into LGL in a consistent, logical, user-friendly manner.

She also guided us through important decisions about how we wish to view and access our data, which led to a customized, common sense data organizational structure, easier searching, analyzing and reporting, and greater confidence in the results.

Remarkably, all the communication between us for data decisions and training were done remotely, and Karen made this work very well. She kept us on task, but was patient, thoughtful, and professional. The Procedure Guide she created for us at the end has been very useful and we can easily update it as needed. I wouldn't hesitate to seek Karen's services again if the need should arise.
Meredith Funston, Director of Advancement
Camp Onaway, Hebron, NH
Having attempted for a year to transition our religious community's database from Excel and QuickBooks into GiftWorks (FrontStream CRM), I was relieved and grateful to bring Karen onboard. Her thorough knowledge of GiftWorks, including transitioning into it and making the best use of it, made the project conceivable. With her leadership and management skills in designing and guiding the project, and supported by her understanding, agility, and graceful determination, we succeeded, and we look forward to more effective communication among the members regarding fundraising, volunteer activities and all aspects of the community. It was a pleasure to work with Karen, and no doubt we will call on her expertise and professionalism in the future as we continue to integrate various features of the program.
HarSimran Khalsa, Executive Secretary
Guru Ram Das Ashram, Los Angeles, CA
With Karen, our donor records management has finally taken off! Our old software was not meeting our needs for tracking or reporting. Karen skillfully and carefully converted our challenging data to GiftWorks®, and then provided personalized, step-by-step training to ensure that we would continue to get all we could from the software. Karen took the time to understand our needs, and now the Trust has a fundraising database that exceeds expectations – plus the knowledge to use it well. Last week, I completed our first round of Board reports with the new system, as well as a major funding appeal. Thanks to Karen's set up and training, these once onerous and frustrating tasks were straightforward and fast. Such a relief!
Karen Schaller's data conversion and training services have made our investment in fundraising software a complete success: our staff now have the tools to more efficiently and effectively perform day-to-day duties. With Karen's helpful suggestions and guidance, the staff dedicated themselves to reworking gift codes, cleaning up old data, and strategizing on data and reporting needs. Karen's in-depth knowledge of GiftWorks® was invaluable throughout the conversion process, and she has continued to provide ongoing, focused training since then. The Bangor Symphony Orchestra has benefited greatly from the streamlined reporting of GiftWorks. We find it a wonderful guide in decision-making and preparing regular appeals and mailings – all tasks that now take far less time to perform.
Sarah S. P. McCarthy, Director of Development
Bangor Symphony Orchestra
I would highly recommend Karen Schaller's fundraising software and training services, especially for those who might be nervous about working with extensive, complicated systems. Before any training, Karen first helped me convert our data from my old system to the new one. And now, after training, I am not only more comfortable using my fundraising database, but I've also gained the confidence to try out other software. Karen works with her clients: she communicates effectively to ensure that we thoroughly understand the database. She was able to instruct me via phone and remote computer access from an off-site location, in manageable, bite-size pieces, and followed up each day with an email summarizing our training session. Best of all, Karen is very accessible: I have arranged to email or call her with questions at any time, and I get a response within 24-48 hours. Karen is a true professional, and an expert in her field. Once she trains you, you are a client for life!
Kathy Ayers Ferland, Operations Manager
Vineyard House
Karen has been with us for many years, and many changes in staffing. Not only did she assist in our software conversion, but she continues to provide consistent technical support so that we may successfully record data, extract reports, and share accurate information. Ultimately, Karen's training has been a great benefit to our fundraising, marketing, and goal setting!
Ann Marie Bartoo, Development Manager
LearningWorks
I hired Karen for a series of three remote trainings on GiftWorks for myself and another person. Even having used GiftWorks in the past, I learned how to use the software more efficiently, and Karen really helped me to understand the things it can and can't do. Karen was even able to train someone how to use GiftWorks effectively who had never used the program before.

I learned how to run reports to better reflect what I need from the system, and establish software records, saving me time and a lot of frustration. Karen is thorough, easy to understand, and has a hands-on style that really helped me to learn by doing.

I recommend Karen's services highly!
Karen's expertise in data conversion, and her attention to detail and individualized client needs, results in a streamlined product made just for you. I now have total confidence in my ability to provide accurate reporting to our Board of Directors and staff from a trustworthy source.

It was truly a great sigh of relief to find someone like Karen to take the reins!
Judy Ward, Office Manager
Maine Center for Economic Policy
f you are looking for a GiftWorks expert who will cater to your organization's training needs, Karen Schaller is it. Content, process, and flexibility—we could not have asked for a better value.
Keeva Kase, MDiv, Director Program Services,
CASA of New Jersey
Karen has been a great help to my hospital in working on specialized GiftWorks training. Her training is different because it uses your data and she answers your questions. She was an invaluable resource to me when I needed to do a major upgrade of the GiftWorks software. The data came back in a clean and usable format; her attention to detail is impeccable.
Karen is a consummate professional in her personal presentation, demeanor and work ethic. A gifted teacher, she can explain in exacting detail how a process works and help people not just use, but better understand the software they are using. Karen is also very detail-oriented—nothing slips past her attentive eyes or her demanding schedule. She is truly a cut above!
Case Studies
Maine Equal Justice Partners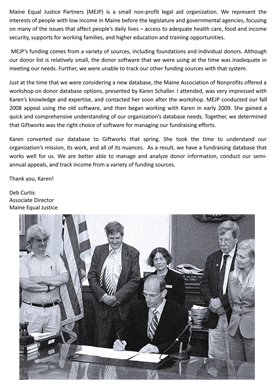 Blue Hill Public Library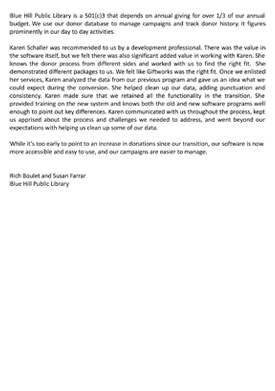 PLGA Foundation